OG21 Strategy - A New Chapter
Publisert 19. okt 2021
Oppdatert 06. nov 2021
Subsurface understanding
The prioritized technology and knowledge areas for TG2 are:
Offshore CO2 storage and late life deposits.


Data acquisition for subsurface understanding and models.


Data management for subsurface understanding and models.


Subsurface understanding and models.


Water management.
The "data acquisition" and "data management" technology areas, described in detail on the next pages, are enablers for the "subsurface understanding and models" technology area. This is shown in the figure below.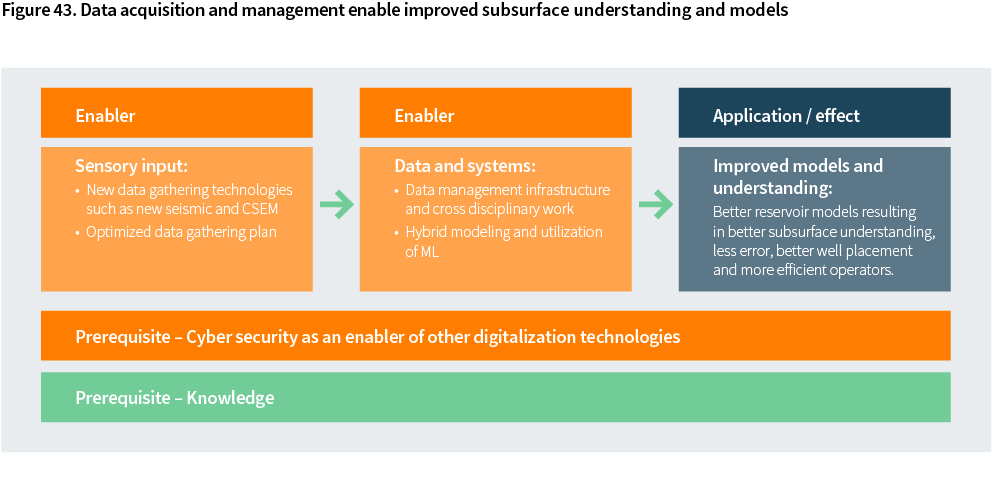 The TG2-prioritized technology areas are important for all the competition indicators described in Section 3.
For instance, the improved subsurface understanding and models, building on data acquisition and the management related to it, will provide the fundament for:
Finding and maturing new resources.


Cost-efficient reservoir drainage.


Safe and cost-efficient drilling.
Offshore CO2 storage has, in addition to receive and store large amounts of CO2 from industry sources in Norway and abroad, the potential to extend the lifetime of fields beyond the cessation of O&G production.
Improved water management will lead to significant reductions in water cycling, and thereby lower emissions from power generation. It is also expected that improved water management will accelerate HC production and yield higher resources by a more efficient reservoir drainage, as well as savings related to less energy consumption for processing of both injection and produced water.
Meldinger ved utskriftstidspunkt 2. desember 2022, 10.48 CET
Det ble ikke vist noen globale meldinger eller andre viktige meldinger da dette dokumentet ble skrevet ut.