OG21 Strategy - A New Chapter
Appendix B - OG21 participants
Technology opportunities and challenges have been identified, described and prioritized by technology groups (TGs) within the themes shown below. The TGs have members from oil companies, universities, research institutes, suppliers, regulators and public bodies.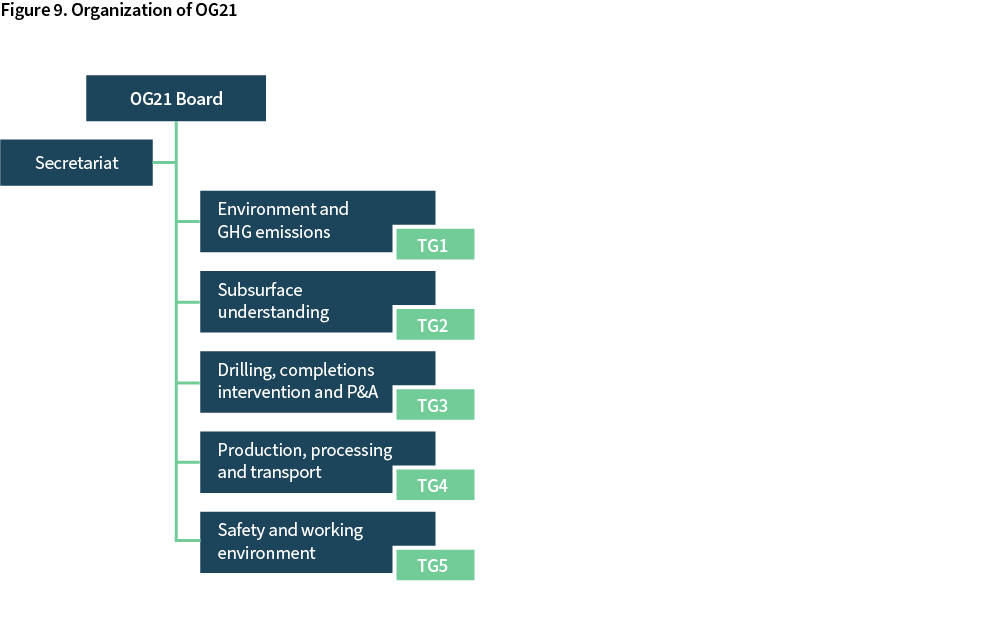 An overview of board members and TG members is provided on the OG21 website. None of the board and TG members are compensated economically for their participation in OG21.
As per August 2021, the following individuals participated in OG21:
The OG21 Board:
Elisabeth Kvalheim, Board leader, Equinor
Arne Jacobsen, Norwegian Petroleum Directorate
Christina Johansen, TechnipFMC
Finn Carlsen, Petroleum Safety Authority
Lars Sørum, Sintef
Merete Madland, University of Stavanger
Morten Jensen, Schlumberger
Roy Ruså, Petoro
Siri Helle Friedemann, Research Council of Norway
Tove Lie, Lundin
Vibeke Andersson, Aker Carbon Capture
Torgeir Knutsen, observer, Ministry of Petroleum and Energy
The Technology Groups:
TG1 – Environment and GHG emissions:
Luke Purse, TG-leader, AkerSolutions (until August 2021)
Inge Brandsæter, TG-leader, Equinor (from August 2021)
Alfred Hanssen, University of Tromsø​
Andreas Tomasgaard, Norwegian Petroleum Directorate
Axel Kelley, Lundin​
Christian Collin-Hansen, Equinor​
Eilen Arctander Vik, Aquateam​
Eirik Sønneland, Validé
Ivar Singsaas, Sintef​
Jannecke Moe, Neptune​
Martin Jensen, Shell​
Ove Sævareid, NORCE​
Per Omar Melilla, Kongsberg Maritime
TG2 – Subsurface understanding:
Ole Eeg, TG-leader, ConocoPhillips
Ane Lothe, Sintef
Cathrine Ringstad, Sintef
Eirik Møgedal, Axis Well Technology
Eirik Kaarstad, BakerHughes
Gorm Liland, Halliburton
Jan Inge Faleide, University of Oslo
Jarle Haukås, Schlumberger
Laila Pedersen, DNO
Lars Jensen, Norwegian Petroleum Directorate
Mariann Dalland, Norwegian Petroleum Directorate
Peter Eilsø Nielsen, Equinor
Pål Haremo, Neptune
Rolando Di Primio, Lundin
Tim Head, Vår Energi
Ying Guo, NORCE
TG3 – Drilling, completion, intervention and P&A:
Jan Roger Berg, TG-leader, Lundin
Anne Bergsagel, BakerHughes
Birgit Vignes, ConocoPhillips
Eirik Møgedal, Axis Well Technology
Gerhard Våland Sund, Neptune
Hans Magnus Bjørneli, Schlumberger
Jan Butler Wang, Norwegian Petroleum Directorate
Jan Einar Gravdal, NORCE
Johan Kverneland, Total
Karim Saffaran, Vår Energi
Kent Allan Dahle, Halliburton
Knut Steinar Bjørkevoll, Sintef
Marianne Høie, Equinor
Pål Skogerbø, MHWirth
Rune Hatleskog, Shell
Sigbjørn Sangesland, NTNU/Bru21
Stein Tonning, DNO
Tore Endresen, Petroleum Safety Authority
TG4 – Production, processing and transport:
Kjetil Skaugset, TG-leader, Equinor
Anne Minne Torkildsen, Norwegian Petroleum Directorate
Anngjerd Pleym, Siemens
Bjørn Søgård, DNV
Carsten Ehrhorn, Shell
Charlotte Skourup, ABB
Dag Eirik Nordgård, Sintef
Eirik Duesten, Petroleum Safety Authority
Elin Klemp Schmidt, Neptune
Elisabeth Alne Hendriks, Gassco
Joar Dalheim, Vysus Group
Jose Plasencia, BakerHughes
Kjartan Haug, Kongsberg Digital
Kristian J. Sveen, IFE
Marie Holstad, NORCE
Ole Thomas McClimans, TechnipFMC
Stein-Erik Hilmersen, Lundin
Trine Boyer, Total
Øyvind Hellan, Sintef
TG5 – Safety and working environment
Espen Forsberg Holmstrøm, TG-leader, Research Council of Norway
Berit Sørset, Norsk Industri
Frank Børre Pedersen, DNV
Halvor Erikstein, SAFE
Håkon Aasen Bjerkeli, Industri Energi
Jakob Nærheim, Equinor
Lars Erik Smevold, KraftCERT
Pål Molander, National Institute of Occupational Health
Roar Høydal, Petroleum Safety Authority
Rob Schumacher, Lundin
Roger Flage, University of Stavanger
Steinar Litland, Vår Energi
Sølve Raaen, Kongsberg Maritime
William Johnsen, Norwegian Oil and Gas
Many stakeholders of OG21 have also participated in workshops and documents reviews during the development of this OG21 strategy, including representatives from:
The Norwegian oil and gas association.


Norsk Industri.


Innovation Norway.


The Low-emission center at Sintef.


The Research Council of Norway.


Energi 21.


Maritim 21.


Prosess 21.
Meldinger ved utskriftstidspunkt 2. desember 2022, 11.13 CET
Det ble ikke vist noen globale meldinger eller andre viktige meldinger da dette dokumentet ble skrevet ut.