OG21-forum 2019
When:

12 November 2019 09:00 - 20:00

Where:

Oslo Plaza Hotel

Target group:

Decision makers, Subject matter experts

Fee:

NOK 3000 + VAT. OG21-members: 1000 NOK + VAT

Registration deadline:

11. November
About the event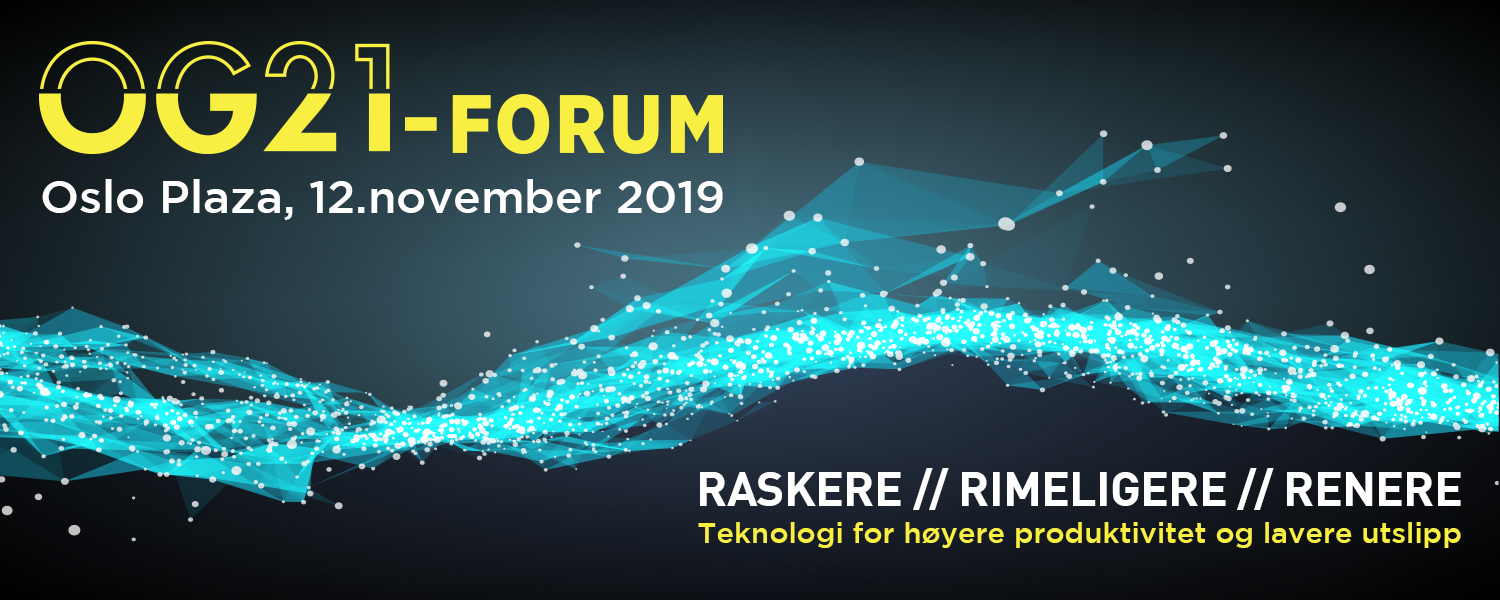 OG21-forum 2019 will mainly be in Norwegian. Some speakers in the morning session will give presentations in English, and the panel debate in the morning session will also be conducted in English.
Oil and gas from the Norwegian continental shelf compete in the international market. To succeed, projects have to be developed faster and with lower costs. At the same time emissions will have to be reduced, both driven by a desire to reduce emission costs and the need to maintain the societal "license to operate".
OG21-forum 2019 addresses these topics. How can technology make our projects faster, with lower costs and reduced emissions?
Delegates at the OG21-forum will also be able to visit technology companies in the exhibition area. The exhibition includes more than 15 companies with high technology and competence content. More information here.
Programme
Raskere // Rimeligere // Renere - Teknologi for høyere produktivitet og lavere utslipp
09:00: Registrering for konferansen og utstillingen åpner.
10:00: Velkommen. OG21s styreleder.
10:05: Åpning av konferansen. Kjell-Børge Freiberg, Olje- og energiminister.
10:25: Keynote talk by Phillip Lambert, CEO Lambert Energy Advisory Ltd.
10:55: Foredragstittel kommer. Anders Opedal, Executive Vice President, Equinor.
11:10: Foredragstittel kommer. Alexandra Bech Gjørv, CEO, Sintef.
11:25: Diskusjon rundt bordene.
11:35: Paneldebatt og dialog med bordene.
12:00: Lunsj i utstillingsområdet - besøk på utstillinger.
13:00: Teknologi for økt kostnads- og energieffektivitet:
Rystad Energys studie for OG21. Jarand Rystad, Managing Partner.
OG21s rapport om teknologi for økt kostnads- og energieffektivitet. Stein Olav Drange, OG21-styreleder
13:30: Lavutslippsteknologi - de lange linjer:
Lavutslippsteknologi - hvordan kan digitalisering og automatisering redusere utslippene? Aina Berg, Konserndirektør Energi, NORCE
Ny nasjonal hydrogenstrategi. Olje- og energidepartementet.
Hydrogen fra naturgass med CCS. Steinar Eikaas, Equinor.
14:15: Diskusjon rundt bordene.
14:25: Paneldebatt og dialog med bordene
14:45: Pause og besøk på utstillinger
15:15: Økte verdier, lavere utslipp - teknologi som gir både i pose og sekk:
FASTSubsea - Alexander Fuglesang
OliaSoft
TBN
15:55: Studenter presenterer sine idéer og løsninger
16:35: Utdeling av OG21-pris til Årets Technology Champion!
16:45: Avslutning konferanse og åpning av mottakelse i utstillingsområdet.
19:00: Slutt